Dubai is an extraordinary city that has grown at a tremendous rate and offers numerous choices when it comes to a place to live in, explore and call home. Each community or area has something different on offer and it is essential to be well-informed to be able to choose the neighborhood that best meets your lifestyle needs whether you are new to Dubai and looking to relocate here or are looking at moving to a different neighborhood within Dubai.
Our knowledgeable and experienced agents are a great source of advice when you begin the process of looking for property to rent or purchase in Dubai properties. Let us help you to determine which of the many incredible neighborhoods is right for you.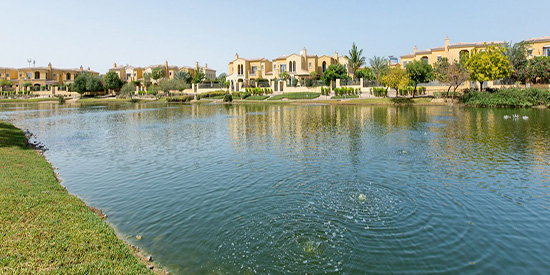 Arabian Ranches
Arabian Ranches is a gated villa community in Dubai, United Arab Emirates launched in 2004. Located on Sheikh Mohammad Bin Zayed Road and in proximity to Dubai's Global Village. It includes the Arabian Ranches Golf Club, Dubai Equestrian & Polo Club. Arabian Ranches 2 was introduced in 2012.
Business Bay
Business Bay is a contemporary financial district packed with corporate high-rises, stylish apartments, buildings and swanky hotels. Dubai Water Canal has jogging and cycling tracks plus a colorful mechanical waterfall. Mid-priced stores fill Bay Avenue mall, along with family-friendly dining options. Smart waterside restaurants serve Lebanese dishes, Asian street snacks, and high-end seafood.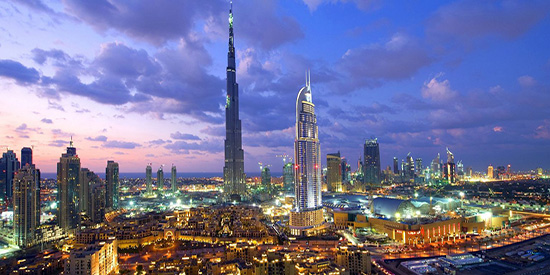 Downtown Dubai
Downtown Dubai is the city's busy tourism hub, home to the towering Burj Khalifa skyscraper, with its observation deck, and the dancing Dubai Fountain, where crowds gather to watch music and light shows. The sprawling Dubai Mall offers global fashion brands and casual eateries, while Emaar Boulevard has a chic cafe scene. The Dubai Opera hosts dance, opera and musicals in a striking dhow-shaped building.
Damac Hills
DAMAC Hills is a well-established self-contained community comprising villas, apartments anda hotel. Home to the International Golf Club Dubai, it also boasts nearly four million square feet of parkland offering various themed areas for relaxation and sports – including restful gardens and lakes, a skate park, stables, football field, tennis courts and more. Popular food trucks and a resident ice cream van serve the community, along with a Carrefour supermarket, Jebel Ali School, salons and cleaning services, a special Green Zone selling plants, and shuttle service to Mall of the Emirates, with more amenities coming soon.
Dubai Marina
Dubai Marina is an affluent residential neighborhood known for The Beach at JBR, a leisure complex with al fresco dining and sandy stretches to relax on. Smart cafes and pop-up craft markets line waterside promenade Dubai Marina Walk, while Dubai Marina Mall is packed with chain and luxury fashion brands. Upscale yachts cruise through the large man-made marina, where activities range from jet-skiing to skydiving.
Creek Harbour
Reside in the heart of a bold new vision for Dubai, born from the fusion of creativity and innovation. Redefine your future on the banks of this historic creek, that represents the next frontier in contemporary life, work and play. Rediscover the DUBAI CREEK HARBOUR that is spearheading the movement for integrated living.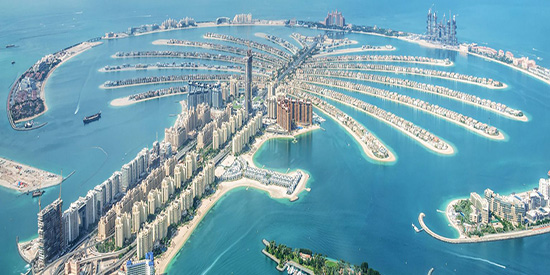 Palm Jumeirah
The tree-shaped Palm Jumeirah island is known for glitzy hotels, posh apartment towers and upmarket global restaurants. Food trucks offering snacks like shawarma dot the Palm Jumeirah Boardwalk, popular for its views of the Dubai coastline and the sail-shaped Burj Al Arab hotel. Beach clubs with spas and infinity pools turn into boisterous nightclubs with live DJs in the evening.
Mina Rashid
Mina Rashid, also referred to as Port Rashid, is a man made, cruise terminal in Dubai, United Arab Emirates. It was originally Dubai's first commercial port until 2018 when cargo operations moved to Jebel Ali Port. It currently serves as a seafront coastal destination, tourist cruise destination, and residential area.
Reem
Reem is a master project by Emaar Properties, a leading developer in Dubai's real estate market. The project is under construction but handovers of the completed units have already started. Having all the basic living facilities at hand, residents can experience Dubai's luxuries at affordable prices. Properties in Reem mainly fit in the deluxe category, however, the rents and selling prices are considerably low. The community is equally favourable for those who wish to buy a house in Dubai for re-selling or investment purposes.
port de la mer
Inspired by the allure of the Mediterranean, Port De La Mer offers panoramic views of the open sea and Dubai skyline, it is truly a one-of-a-kind island retreat within the city. The private residential community comprises of a spectacular facilities and amenities, located at the tip of the north peninsula at La Mer.
Mohammed Bin Rashid City
Mohammed Bin Rashid City, popularly known as MBR City, is one of the biggest mixed-use developments and freehold areas in Dubai. Announced in the latter half of 2012 by the ruler of the emirate His Highness Sheikh Mohammed Bin Rashid Al Maktoum, the estimated cost of the project is AED 30 billion. The development comprises of state-of-the-art tourist attractions, a hub of leisure activities, the biggest shopping centre in the world, a large-scale park, the world's largest man-made lagoon and 45 million sq. ft. of freehold property. The project was inaugurated by His Highness Sheikh Mohammed Bin Rashid himself in May 2015.
Town Square
Town Square is a mega project launched in Dubai in early March 2015. Located along Al Qudra Road, the development is 750 acres in size and will eventually consist of 3,000 townhouses and 18,000 apartments. According to the developer, NSHAMA, the entire project will be built over 10 years.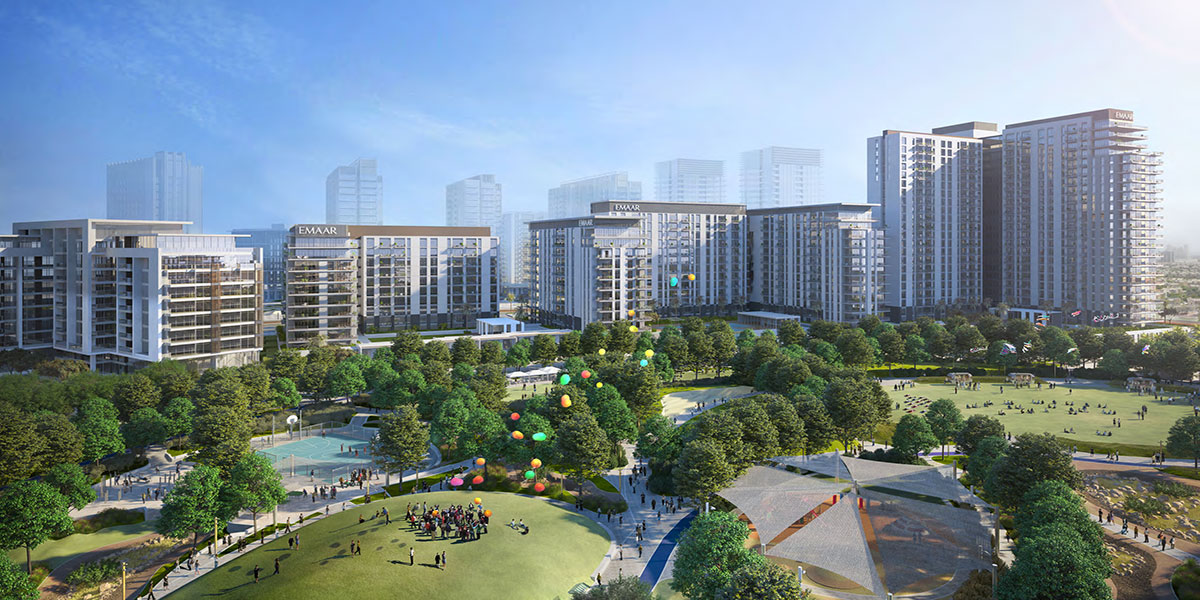 Dubai Hills State
Wake up to luscious landscaped greens and pristine fairways with an iconic backdrop of the Burj Khalifa and the Dubai skyline. Live in a sophisticated address that inspires peak performance, every day. Come home to the DUBAI HILLS ESTATE.
Madinat jumeirah living
Where past and future brought together.
A premium location. A classic architectural style. Madinat Jumeirah Living a collection of premium residences. Take the ultimate opportunity to live and invest in an exclusive development in Umm Squeem, with impressive views of the upcoming Burj Jumeira and located adjacent to the iconic Burj Al Arab. Spacious lay outs with fresh and contemporary interiors make for exceptional living . The gated community is also directly connected to Madinat Jumeirah Resort and Souk by an air-conditioned walkway.
EMAAR beach front
Lose yourself in the beauty of a private gated island, with exclusive sandy beach.Take your pick between 27 glistening towers rising above the azure blue waters of the Ocean , each one more stunning than the next.